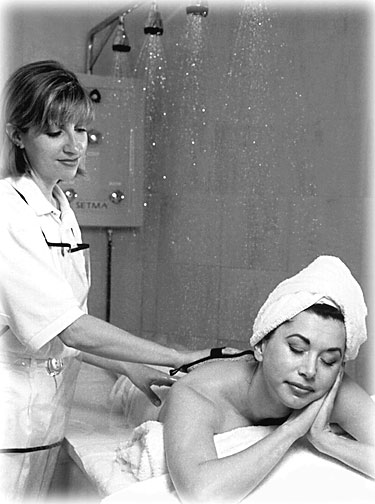 Scottsdale Spa | Retreats, Facials, Body Sculpting
Spa Du Soleil Arizona 480-994-5400
healthful and complete… Take a vacation for the day
Our spa retreats are the perfect way to escape from your every day reality and routine. Working day in and day out along with taking care of your other various responsibilities can be very draining over time. Couple that with the fact that many of us simply do not get enough sleep at night and you have the ingredients for bogged down days that drag along. Give yourself or someone you care about the gift of rejuvenation. Our retreats are desinged to refresh your mind, body and soul in our beautiful day spa, setting you up to be energetic and inspired upon your return to your daily affairs. We offer a range of retreats designed to suit various lifestyles and we guarantee that they will be relaxing, revitalizing and ejoyable. Our retreats options include the following:

Gentleman's Retreat
3 hours / $260
For the active man... A skin-fitness facial, a relaxing stress relief massage, revitalizing scalp treatment, hair cut & style, and classic mens manicure.

Beauté Retreat
4 hours / $325
European spa facial, upper-body massage, classic spa manicure, classic spa pedicure, design hair cut & style, eyebrow shaping, and make-up application.

Tropical Retreat
4 hours 30 minutes / $295
An invigorating tropical fiber-mitt body polish, nourishing warm caribbean avocado-oil body cocoon, luxurious one-hour tropical essence massage, terrace lunch, papaya-enzyme clarifying facial, & tropical pineapple pedicure.

Mother to be Retreat
3 hours / $265
A comforting and nurturing retreat for the mother to be. Soothing one hour maternity massage, decongesting and revitalizing leg treatment, customized prenatal facial and refreshing peppermint pedicure.

Couples Retreat
3 hours / $395
For two...Candlelight and champagne Fleur de Amour privacy soak, two relaxing Aromatherapy massages, two spa facials, and two Classic Spa pedicures.

Wellness Retreat
5 hours / $420
This day will take you far and away from the stresses of everday life. Begin with a health enhancing chinese tonic; next, a sea salt body polish, therapeutic spa treatment bath, rebalancing wrap and rejuvenating energy pathways massage. After a lovely catered lunch, your day resumes with a customized facial and nourishing hand treatment. A reflexology pedicure and our classic spa manicure concludes this blissful day or wellness and relaxation.