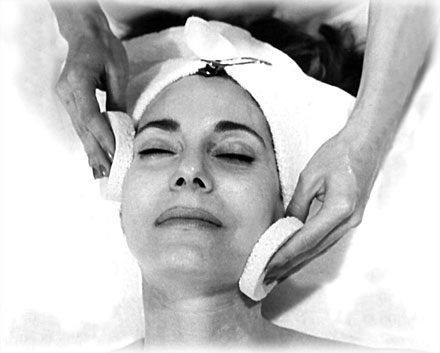 Facials
| Facial Spa |
Spa Du Soleil Arizona 480-994-5400
European Spa Facials Scottsdale | Traditions for healthy, Radiant Skin. Spa Du Soleil Arizona 480-994-5400
We are proud to offer facial treatments that address the needs of every skin type and condition with the finest skin care products in the world. Your skin is as individualized as your are and based on an analysis of your skin care goals, your aesthetician will assist you in selecting the best facial for your skin type. We invite your to relax and enjoy your facial in the comforts of our spa.

Spa Refresher
30 minutes / $65
Thorough cleansing, exfoliation under a fine mist of steam, custom masque, and a relaxing face, neck & shoulder massage leaves skin refreshed and glowing

Beauté Flash
45 minutes / $95
A sophisticaed, rapid exfoliation treatment, ideal for all skin types, particularly where wrinkles, enlarged pores, acne or hyperpigmentation are present. Leaves the skin looking smoother, clearer, more even-toned and radiant.

European / Ritual
1 hour / $95
European stlye cleansing facial. A starting point for healthy, vibrant skin. Includes a light exfoliation, therapeutic face, neck and shoulder massage, extractions of impurities, custom blended masque, and moisturizing arm and hand massage.

Men's Fitness Facial
1 hour / $95
Specifically designed for the skin care needs of the active man. Therapeutic deep pore cleansing with extractions, toning facial massage, custom blended masque, and stress-reducing shoulder, neck and scalp massage.

Clinical
1 hour / $95
Intensive purifying facial for oily, impure & Acne prone skin. Thorough cleansing & exfoliation, meticulous pore cleansing, ionized steam and purifying masque.

Sea Calm
1 hour / $135
Special care for sensitive, allergic and fragile skin types. This treatment reinforces frail capillaries, calms redness and soothes even the most delicate or reactive skin.
Note: Extend the benefits of your facial with our sensitive skin home care program.

Prestige
1 hour / $135
The ultimate facial for those desiring to prevent or repair the signs of aging. AHA's and patented marine extracts deliver anti-aging nutrients to the skin diminishing fine lines and wrinkles, increasing hydration and elasticity. This advanced treatment leaves the skin visibly younger, smoother firmer and more vibrant.
Note: Extend the benefits of your facial with our sensitive skin home care program.

Back Facial
1 hour / $115
Equisite attention for your back. Thorough cleansing, exfoliation, extractions, custom blended masque, and soothing therapeutic back massage.

When Your Skin Requires A Little Extra Attention,
These Intensive Care Boosters Can Be Added To Your Facial

| | | | |
| --- | --- | --- | --- |
| Enzyme Peel | $25 | Oxygenating Seaweed Mask | $25 |
| Swiss Collagen | $25 | Couperose Treatment Masque | $25 |
| Clarifying Masque | $25 | Vitamin-C Treatment Masque | $25 |
| Pumpkin Peel | $25 | Eye Contour Treatment | $45 |
| Lifting Masque | $35 | Neck & Decollete Treatment | $45 |
| Lip Unliner | $20 | Hand Rejuvenation | $35 |
| Lip Plumping | $20 | Whitening Treatment | $35 |
---
Specialized Skin Care Treatments
These Specialty Care Treatments are designed to address specific conditions and may require more than one treatment for optimum results

Echo 2 Oxygen Therapy
1 Session/ $105
Pure live oxygen combined with 87 different vitamins and minerals nourish and revitalize the skin at a cellular level. Provides intense hydration, increases skin suppleness and elasticity. The anti-bacterial properties of oxygen are also excellent for assisting in the control of acne.

PBE Bio-Visage 2000
1 Session / $135
An extraordinary nutritive and toning treatment from Europe... With each treatment the face is further transformed and toned as aging toxins are eliminated, under eye circles and pigment marks fade, muscle tone is restored and skin texture becomes smoother and firmer.

Chinese Herbal Peel
2 sessions / $225
Have new skin in 5 days! 100% all-natural herbs safely and effectively renew skin texture... Session 1: An application of natural herbs activates the sloughing process and stimulates cellular renewal... 5 days later, Session 2: a facial rejuvenation treatment reveals fresh, new, smoother looking skin.

Micro Peel
1 hour / $150
A new method for skin rejuvenation... Microdermabrasion treatments gently and effectively improve skin texture. Reduces the effects of sun damage, minimizes pores and helps smooth acne scars, fine lines and wrinkles.

SDS Pink Peel
1 session / $135
A revitalizing non-invasive, natural, non-toxic skin renewal process. Dramatically improves the appearance of age lines, wrinkles, blemishes, and un-even skin tone, giving you a fresher, younger and smoother look.

Facial Rejuvenation
1 session / $500 - Series of 3/$1,250
A revolutionary non-envasive, natural, non-toxic skin rejuvenating process. Dramatically improves the appearance of age lines, wrinkles, blemishes, uneven skin tone and gives you a younger, smoother, firmer look. A series of 3 weekly cycles done "back to back" give comparable results to a deep peel done by plastic surgeons.